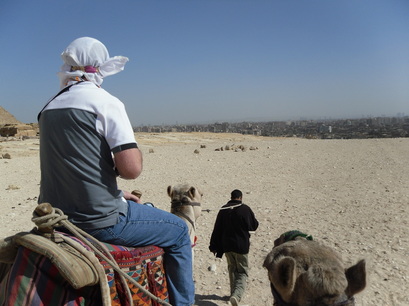 The Sphinx came about during the the reign of King Khafre. A chapel was located between its forepaws that had unfortunate history of being repeatedly destroyed by unusual circumstances. During the New Kingdom, Amenhotep II dedicated a new temple to Hauron-Haremakhet and this structure was added onto by later rulers.
The Pyramids of Giza were built to house the remains of the deceased Pharaohs who ruled over Ancient Egypt. A portion of the Pharaoh's spirit called his ka was believed to remain with his corpse. Proper care of the remains was necessary in order for the "former Pharaoh to perform his new duties as king of the dead." It's theorized the Pyramid not only served as a tomb for the Pharaoh but also as storage for the various items he would need in the afterlife. "The people of Ancient Egypt believed that death on Earth was the start of a journey to the next world. The embalmed body of the King was entombed underneath or within the pyramid to protect it and allow his transformation and ascension to the afterlife.
After two days in Giza we travel to Cairo itself. We stayed right in the centre of the town. The protests were everywhere but we found it very safe. In fact the people were really friendly. Only problem was crossing the five lane roads. The owner of our hotel trained us on road crossing. You walk out and the traffic stops for you. I used shut my eyes and pray.
The River Nile is about (4,160 miles) in length and is the longest river in the world. Although it is generally associated with Egypt, only 22% of the Nile's course runs through Egypt.The Nile flows into the Mediterranean Sea in the north and the main source is Lake Victoria in the south.
Thank you Cairo-- Hope peace comes to you guys soon.
Two-thirds of the people on Earth have never seen snow.